Hazelwood Exhibit
An exhibit on the lives lived and lost within the Hazelwood, PA, community
goal
It was most important to us to build an exhibit that gave the community something they genuinely needed, rather than just what we thought they needed. We built this exhibit with the Hazelwood community and decided together that this space needed to focus on not just the past, but also the future of this neighborhood. Great care was taken to ensure the space has sections to listen, learn, reflect, and celebrate the living and the lost.
Problem Space
Over the years, the neighborhood of Hazelwood, PA, has seen the gaps created by lost industry become filled with urban violence. Pastor Tim Smith of the Center of Life Church approached the Carnegie Mellon School of Design after he began to "feel numb" from the continuous burial of lost young lives. With a plea for help, our design class decided to create a space to honor, mourn, and discuss the loss felt throughout this community.
Timeline | 16 Weeks
the team
This exhibit serves as the senior capstone for the 2017 design class of Carnegie Mellon University. The team was composed of 32 students from both industrial and communication design, professors Dlyan Vitone and Kristin Hughes, and advisors Tim Smith and Charlie Humphrey.
my Role
I was the colead of content and oversaw all the written material for the exhibition. I coordinated and aligned the individual styles with our overall goal and worked with teams in order to ensure a cohesive voice across the entire exhibit. I was directly responsible for writing the room's introduction panels and abstract for the entire show. In addition, I also helped prepare interview sessions with community members, design the history-focused exhibit space, and serve as a mediator for teams
experiencing conflicts.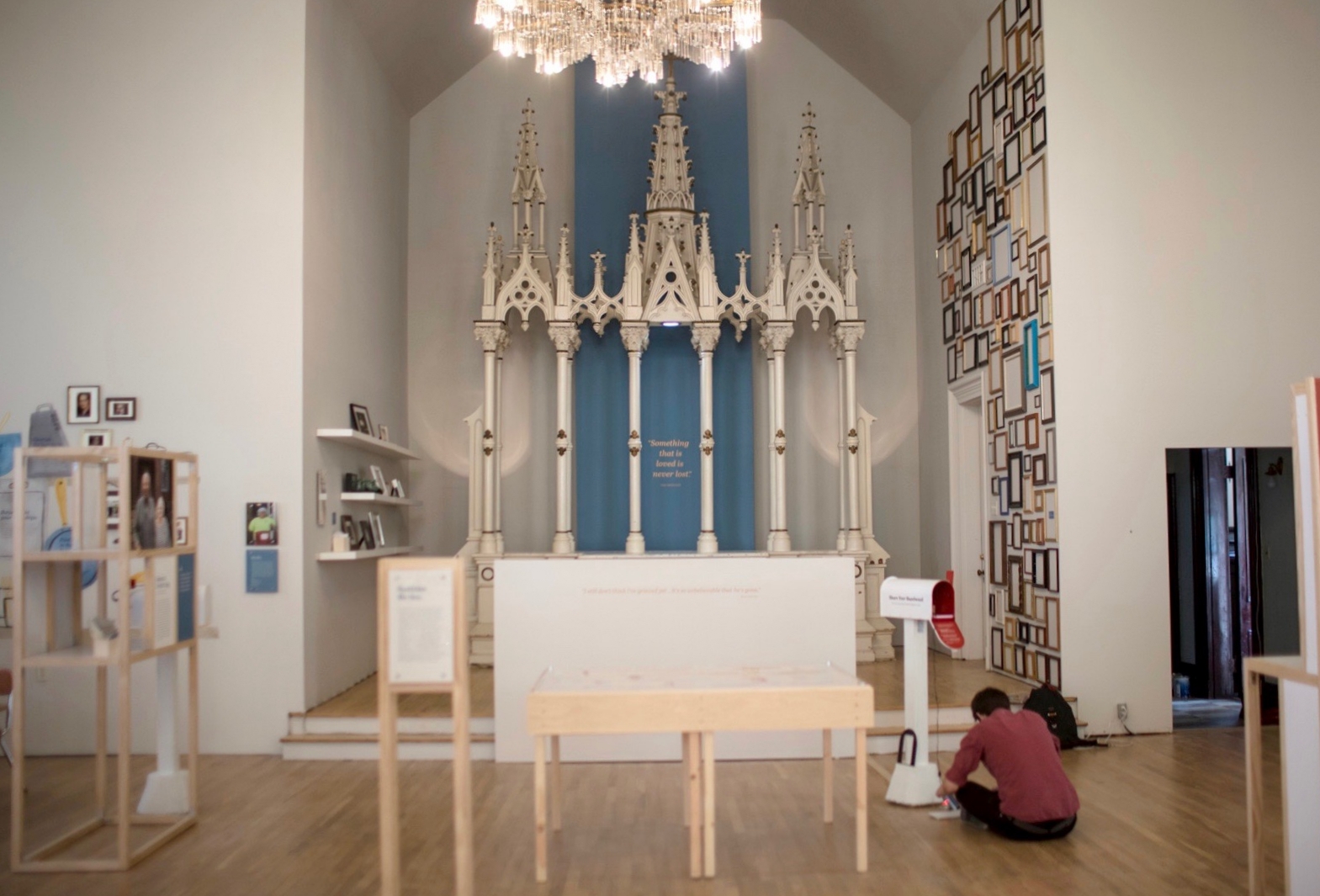 about the show
I Lived, We Live, What Did We Miss?

There is no good reason to bury a child. There is no justification for why this unnatural act has become normal in Hazelwood. Here, we recognize the countless individuals who have felt the pain of saying goodbye to loved ones whose lives were cut short by street violence. Their stories of loss encourage us to share our own, and through this exchange, we take part in something bigger than ourselves. We become a community empowered by our vulnerability, strengthened from our compassion, and engaged with the issues that matter to us.

This exhibit describes the journey of Hazelwood and asks us how we have arrived to a world with such systemic loss. We question the larger forces in our society, as we strive to find peace in our personal histories. We look for opportunities for positive change, and recognize the power of this community many people call home: Hazelwood.
Spaces We Shared
A community cannot grow without spaces to call its own. Although Hazelwood used to be a thriving neighborhood, it lost countless resources like schools, grocery stores, and jobs when the steel mills closed. Neighborhood treasures like ice cream shops and community swimming pools are now fading memories. By looking at artifacts from Hazelwood's past, we reflect on what this neighborhood used to be.
Systems We See
As Americans, we are promised the rights of freedom, justice, and equality. But how are these rights fulfilled if communities struggle to put food on the table and keep their children safe? Battling systemic issues like poverty, racial inequality, and urban violence starts with open eyes and honest conversations.
United We Will
Hazelwood is a beautiful mosaic made up of unique individuals who each play a role in the community. Whether they are artists, activists, leaders, role models, or supporters, these people all share the desire to contribute to something bigger than themselves. Through the years, Hazelwood's strength has rested on its ability to come together in difficult times.
Aspirations We Hold
The people of Hazelwood are living and breathing stories of inspiration and resilience. From Olympic medalists to entrepreneurs, the community is filled with champions of hard work and talent. However, amongst these bright stars are also quieter voices whose stories of compassion and determination remain untold.
Together We Remember
There are times when it is difficult to remember the loss of our loved ones because the pain is too great. However, when we can voice our grief to others, suddenly we are no longer alone. The countless individual stories of young lives cut short in Hazelwoodbuild a larger narrative of urban street violence. Coming together over this shared experience creates a system for support and healing.
Process Documentary
Produced by design student Jillian Nelson
Observational Walkthroughs
Walking through Hazelwood allowed us to see first-hand the scars left by lost industry. Many building had become abandoned, showing only brief remnants of the purpose they might have once served when the town was bustling and alive.
The streets also carried with it the tension of old and new as gentrification of this community can already be seen. Driverless Ubers zipped by us as Tim spoke about the Almono development plans-- a proposed 'tech campus' for robotics research (including Uber) which is set to begin construction later this year. The new site builds atop Hazelwood's 178 acre waterfront property and former location of the LTV Coke Works Steel Mill.
Our first tour was lead by community members, including Pastor Tim Smith, which also gave us insight into how close-knit the people of Hazelwood are; it seemed as though every person we passed recognized Tim and stopped to exchange greetings and express interest in our project.
Community Design Charette
Working with community members was critical to building this exhibit. In hearing the stories, opinions, and aspirations of the residents, we were able to better understand the challenges, pain, and hope they experienced within their daily lives.
In this particular research session, members of the community were invited to an evening at the Hazelwood Keystone Church to participate in a design charette. Members rotated through different stations as we used prompts and make-tools to hear about topics ranging from business, to everyday tasks, and most importantly, the loss of their loved ones.
Methods included:
Prompt-Based Storytelling
Map Making
Card Sorting
Image Boards
Scenario Drawing

 
Formal Interviews
A central portion of our exhibit focused on curating and displaying the objects once belonging to victims of urban violence. These keepsakes help tell the story of the lives lost in the community and the ones left behind who struggle everyday to pick up the pieces.
Our project advisors helped set up a day where community members and their could be professionally photographed. At this time, formal interviews were recorded by Charlie Humphrey the former director of the Pittsburgh Filmmakers.
Participants were asked the following questions:
Basic information/state your name

What is your relationship to Hazelwood?
How have you seen this community change over the course of your lifetime?
Can you talk about the object you have brought in?
Can you discuss the loss you have experienced?
The footage from these interviews was critical to making our documentary on loss in Hazelwood, which was displayed within our final exhibit.
Exploring Common Themes
Working in teams of three, our 32-person design team was tasked to respond to different aspects of life in Hazelwood and develop possible points of focus for the exhibition.
Our Identified Themes:
Dormant Assets: How do we inspire dormant assets to become actualized in the individual?
Potential Community Breaking Points: Loss is bittersweet; How can we make loss promote hope?
Expressions of strength: How can we showcase that Hazelwood takes care of their own and that memories are important to the community?
Sources of Strength: Faith is a catalyst for healing, outlook on the experience we share. Openness to revisit painful memories, community programs, love is the backbone of support.
Opportunities: Loss could be a channel for connection, freedom comes through vulnerability, the unity of our past can speak to the potential of our futures.
Rapid Brainstorm
We then brainstormed rapid responces to the three of our themes to present to our larger team.
Living Library: How can we capitalize on the dormant assets of the Hazelwood community by telling these stories in a physical library that we can interact with?
Mapped-out-Community Resources: How can we visualize the commodities people of Hazelwood share? Could it be physically mapped? Could this dispel some resentment amongst the public?
Portraits of Hazelwood: How can we showcase the people of Hazelwood through the memories that others have formed about them?
Focusing + Reframing
As a class, we discussed our ideas and themes before deciding we needed more overall structure. We reframed our exhibit by focusing our concept into smaller themes divided by rooms. These rooms were inspired by one's actual home, and a direct responce to a sentiment repeated throughout our time spent with community members, that "hazelwood is my home".
Attic: History, things lost or stowed away but not forgotten, items you hope will become useful again one day
Porch: Awareness, places for people to see and hear what is going on with their community and neighbors
Kitchen: Conversations, time spent dicussing the day-to-day, 'kitchen fridge aspirations', pride in each other
Living Room: Serious discussions on current events, systemic issues, focus on 'how did we get here?'
Mailbox: A place to stay continually informed/involved, a place to voice your opinions and get in-touch with others in your community
Generating + Prototyping
Working with four other design students, I focused on the section of the exhibit displaying the history of Hazelwood. By understanding how the areas of industry, education, community life, and business, have changed over time, our section lays the foundation for the current state of the community.
Found Objects
Our exhibit space used both found and donated objects to create a timeline of the neighborhood. By visiting sites such as the former LTV Coke Works Steel Mill and abandoned Gladstone Middle School, we were able to source real artifacts including: worker's boots, Polaroid ID cards, school desks, and many other objects for use in our exhibit.
Community Driven Insight
The timeline of this community was built through continuous conversations with residents. In meetings, or 'town halls', we prototyped our ideas in order to reicieve feedback on our designs and also fill in the gaps from this neighborhood's past life that were undocumented in traditional research and literature reviews.
Construction
The transformation of the space occurred over a four-day period from May 6th-May 9th. Teams worked in shifts around the clock to install, build, and finalize the exhibit. Prior to construction, painting and general maintenance had been completed (in late April) to transform the church to a fresh canvas.